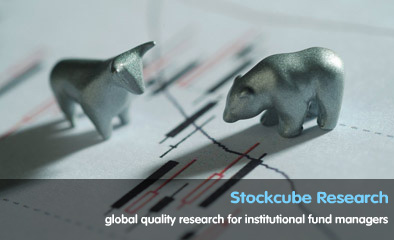 Welcome to www.stockcuberesearch.com
Stockcube Research has a global reach, supplying high quality research to institutional fund managers on five continents from offices in London and New York.
Our unique, custom portfolio and watch-list analysis ensure that we provide relevant research, tailored exactly to the individual manager's requirements.
Stockcube Research has been serving fund managers, investment banks and hedge fund managers since 1989 and we are the largest technical research firm in Europe.
Our analysis produces alpha-generating ideas at the stock, sector and index levels. Our ability to contrast equities with their peers, combined with the scale of our coverage leads to an enormously powerful 'lateral vision'. We deliver our research in an uncomplicated style to make our communication as time efficient as possible.
Generic research:
Daily Bulls & Bears
Weekly Technical Strategy
Monthly Sector Rotation Reviews
Ad hoc market driven reviews
Generic Research Universes:
US, UK, Europe, Japan, Asia-Pacific, Developing & EAFE
Global Technology, Global Financials & Global Consumer
Bespoke research:
Used by over 70% of our clients
Portfolio / Watch List Analysis
Technical Diversification Analysis
Matched Relative Analysis
Long-only Funds:
Regional and sector rotations identified
Focus on relative performance
Horizon of up to 5 years
Equity markets contextualised by macro overview
Long-short Funds:
Daily absolute and relative ideas
Sector and stock rotations identified
Short term extension and reversionary risk identified
Separate trend and counter trend trades